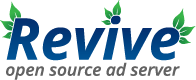 Revive Adserver v4.1.1 is available now.
This new release fixes a number of bugs that were discovered since the release of Revive Adserver v4.1.0 on October 18, 2017.
Users trying to upgrade their installations reported problems when they initially installed the software before v2.8.x. These problems have now been fixed. Systems that were initially installed with v3.0 or higher, were not affected. We also fixed a small but annoying issue on the Campaign Properties screen when editing an existing campaign.

Below is a list of changes in Revive Adserver v4.1.1:
Removed newly added database integrity check for default values and not null constraints, that was preventing successful upgrades when the database itself was created before 2.8.x.
Fixed various issues preventing a direct upgrade from phpAdsNew 2.0.11-pr1 and possibly earlier 2.4/2.6 versions.
Fixed an issue that was causing the campaign radio button on the campaign edit screen to be empty and the bottom half of the form to disappear when editing an existing campaign.
Full release notes for v4.1.1 can be found on our Github page.
Download, install and upgrade
Revive Adserver v4.1.1 is available for download now.
Once downloaded, please refer to the instructions for Installations of Revive Adserver or for Upgrading Revive Adserver. Make sure that the server being used meets the minimum technical requirements.