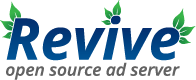 We're very proud to announce the immediate release of our newest software product: Revive Adserver v4.1 is available now.
This version of the world's most popular, free, open source ad serving system contains several enhancements and improvements (described in detail below) and some bug fixes. The most important enhancements are: support for HTML5 ads (beta), new delivery rules for whitelisting and blacklisting domains, and a WYSIWYG editor for HTML banners.
Below is a list of enhancements and improvements included in Revive Adserver v4.1:
We added a new (optional) setting to prevent a user from being redirected to the landing page associated with a banner, when the banner has been deactivated or when the campaign it belongs to is no longer active. In such cases, impressions and clicks on those banners will no longer be counted either.
When generating invocation codes (tags), there is a much shorter comment than in earlier releases (long comments can be switched on while generating tags if so desired).
In the user interface, a number of terms have been renamed, to bring the language used into line with modern terminology used in the advertising industry:
* ACLs are now Delivery Options;
* Delivery Limitations are now Delivery Rules;
* Targeting Channels are now Delivery Rule Sets.
We added some new Site Delivery Rules, to enable white-listing or black-listing based on hostnames and/or registerable domain names. The development of this feature has been sponsored by a generous donor who has asked to remain anonymous.
We added a new security feature to invalidate all the active sessions of the current user when changing or recovering their password.
We added the option to use TinyMCE as a WYSIWYG HTML editor (just like in WordPress) when creating and editing HTML banners. The editor is switched off by default, for
increased backwards compatibility, but it can be enabled by default via the user interface account preferences. This preference is ignored when editing HTML ads containing scripts or iframes in order to avoid inadvertently altering 3rd party tags. The development of this feature has been sponsored by a generous donor who has asked to remain anonymous.
We added a new {img_url_prefix} magic macro that will print the configured http/https images URL during delivery, depending on the calling protocol.
We added (beta) support for HTML5 banners, allowing the upload of banners in IAB compliant ZIP file formats. The development of this feature has been sponsored in part by Aqua Platform, a company specializing in Revive Adserver hosting at enterprise scale.
We added support for ordering advertisers, campaigns, banners, websites and zones by the date each was last updated, on the main index page for each, to make finding recently updated entities easier in large installations.
We added automatic switching to the mysqli driver when mysql is selected as the database type in the configuration file, but the mysql extension is not available (and vice versa).
We added custom events for Javascript Async delivery, allowing the website to better interact with Revive Adserver, e.g. to refresh some ad placements or modifying the data that is sent to and received from the ad server.
There have also been many other smaller enhancements and improvements, described in detail in the release notes.
We have fixed numerous bugs, and there are also some non-backward compatible changes, so please make sure you carefully study the release notes.
Important: this v4.1 release has a Non-Backwards Compatible Change. Support for PHP 5.5 has been dropped and Revive Adserver now requires at least PHP 5.6.0.
Full release notes for v4.1.0 can be found on our Github page.
Download, install and upgrade
Revive Adserver v4.1 is available for download now.
Once downloaded, please refer to the instructions for Installations of Revive Adserver or for Upgrading Revive Adserver. Make sure that the server being used meets the minimum technical requirements.