Revive Adserver – free open source ad server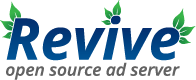 Revive Adserver is a free open source ad serving system that enables publishers, ad networks and advertisers to:
Serve ads on websites, in apps, and in video players, and collect detailed statistics including impressions, clicks and conversions
Manage campaigns for multiple advertisers and from ad networks all at once, via an easy to use interface
Define rules for delivery of campaigns and ads, including frequency capping, URL targeting, geo-targeting
Track and report campaign performance, including click-through rates, conversion rates, revenue, eCPM and conversion details, like basket value and number of items purchased
Project History
The Revive Adserver project was started in the summer of 2013, when OpenX Source was purchased by the Revive Adserver team.
The new name for the project reflects the new breath of life the product has received. On the same day that the transfer of the project and the new name were announced, we released Revive Adserver version 3.0.0.


In 2015, the intellectual property rights of the Revive Adserver software were transferred to a newly formed company named Revive Software and Services.
Project Team
The Revive Adserver project is an international team of dedicated developers and consultants:
Andrew Hill used to work in the London offices of OpenX Ltd from 2004 to 2009. His role was Lead Developer. His expertise and knowledge of the system, and how it came to be in the past, have proven to be invaluable for the project. Andrew lives near Adelaide, Australia.
Matteo Beccati is an extremely experienced software developer. He has been actively involved with OpenX Source and almost all of its predecessors since 2000. He joined the phpAdsNew team back in 2001 and also worked for OpenX Ltd from 2006 to 2009 as a Lead Developer. He then moved on to become an independent consultant and successful developer of plugins for Revive Adserver and OpenX Source. He also provides a wide range of development and technical services for OpenX Source and now Revive Adserver, from his base in Ferrara, Italy.
Erik Geurts is an independent ad server consultant. He has been active in the Revive Adserver community since 2003 (when it was still called OpenX Source), as a consultant and trainer, and the owner of a company offering hosting services for Revive Adserver. He lives in Groningen, The Netherlands.
Sponsors and Contributors
Please review the list of companies and individuals who have sponsored the Revive Adserver open source project.
Many others have contributed to the development of Revive Adserver, they are listed on the Contributors page of the Github project. Future contributors will automatically be added there.

You can also become a sponsor and contributed to the continued development of the open source software. If you earn money from using Revive Adserver, please consider donating a small percentage of that to the project. Even just $10 per month will help a lot. Please visit our Patreon page and sign up to be a sponsor!