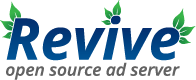 Revive Adserver v3.2.1 is now available.
This new version addresses and fixes the following issues:
Flash banners now work correctly through the asynchronous tags introduced in v3.2.0.
The campaign edit screen had javascript errors when switching to some languages other than English, and was therefore unusable. This has been fixed.
Some translation strings that were mistakenly removed in the cleanup of the language files, have been restored. This fixes certain issues in the delivery limitations screen.
The regular Javascript Tag is once again present in the invocation screen dropdown, in addition to the asynchronous tags introduced in v3.2.0.
HTML entities, such as "&", are now properly parsed when using the "Alter HTML" functionality for a banner. This should fix a problem with truncated destination URLs.
The getBannerTargeting API call did not work when the banner didn't have any delivery limitation. This has been fixed.
The full list of changes included in version 3.2.1 can be reviewed on the project's Github pages.
Download, install and upgrade
Revive Adserver v3.2.1 is available for download now.
Once downloaded, please refer to the instructions for Installations of Revive Adserver or for Upgrading Revive Adserver. Make sure that the server(s) being used meet(s) the minimum technical requirements.