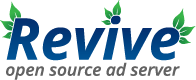 The Revive Adserver team announces Release Candidate 2 of Revive Adserver v4.1.
After recently publishing the first Release Candidate for v4.1, our testers found several bugs related to performing an upgrade from an earlier version, when the database server being used is PostgreSQL. These bugs have now been fixed. This matter does not affect users of the MySQL database server software (which is in use by the majority of people).
We took advantage of the extra time this gave us to add one new feature:
Custom events for Javascript Async delivery, allowing the website to better interact with Revive Adserver, e.g. to refresh some ad placements or modifying the data that is sent to and received from the ad server.
For an overview of all the other changes, improvements and fixes in this release candidate 2, please review our blog post about Release Candidate 1.
Important: these release candidates, and the actual v4.1 release later, will have a Non-Backwards Compatible Change. Support for PHP 5.5 has been dropped and Revive Adserver now requires at least PHP 5.6.0.
Full release notes for v4.1.0-rc2 can be found on our Github page.
Download, install and upgrade
Revive Adserver v4.1 Release Candidate 2 is available for download now.
Please keep in mind that this is a release candidate, and as such it can result in issues. If you don't feel confident about testing beta-level software, we recommend that you wait until the final v4.1 is available. This will be announced here on the blog.
Once downloaded, please refer to the instructions for Installations of Revive Adserver or for Upgrading Revive Adserver. Make sure that the server(s) being used meet(s) the minimum technical requirements.
Community contributions

Several new developments in version 4.1 have been sponsored by community members, either financially or in the form of code contributions. We're very grateful for the support we've received. If you would like to contribute to our project, please consider becoming a patron on Patreon.com.