The Revive Adserver project team is proud to announce that a Release Candidate 1 (RC1) is now available for the upcoming Revive Adserver v5.3.0.
Introducing Revive Adserver v5.3.0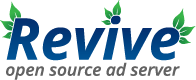 The primary goal of v5.3.0 is to provide compatibility with PHP 8 and MySQL 8.
This version has no new features or functionality, but it does fix a number of bugs and has a small security improvement.
So while this may not be a terribly exciting new release from an end-user perspective, a huge number of changes have been made in the code to achieve compatibility with PHP8 and MySQL 8.
This justifies a thorough testing phase before the final release.
Summary of changes in Revive Adserver v5.3.0
New in this version:
Added PHP 8.0 compatibility.
Added MySQL 8.0 compatibility.
Added compatibility for the MySQL 'utf8mb4' character set.
This version also fixes a number of bugs and has one security improvement:
Fixed hourly breakdown statistics links from daily history pages not working properly.
Added missing support for ssl connections to MySQL databases in the delivery scripts.
Fixed multiple issues related to upgrading plugins, especially on PHP8.
Removed useless option to add a cache buster when generating async tags.
Database password is no longer returned in the database settings form.
The full release notes are available on the project's Github pages.
Staging Only!
Today's RC1 should not be used in a production environment. We would like to invite system administrators and developers to install it in a staging environment, or to make a copy of their production environment and update that copy to this new version.
If you'd like to do a fresh install of this release candidate, please see the instructions for installing Revive Adserver on the website. A detailed process for updating the Revive Adserver software can be found on the website as well.
Update path of Revive Adserver and PHP
Any versions of Revive Adserver prior to v5.3.0 will not run with PHP8, whereas Revive Adserver v5.3.0 won't run on PHP versions prior to 7.2.5.
If all else fails, you might consider following this update path:
Update Revive Adserver to version 5.2.1 if still using an older version
Update the server to PHP version 7.2.5 or higher, but not PHP 8
Update Revive Adserver to version 5.3.0-RC1
Update the server to PHP version 8.0.x
Technical requirements for PHP 8 can be found on the php.net website.
Updating MySQL
It is recommended to update MySQL to v8 only after a successful update of Revive Adserver to v5.3.0 or higher.
Download now!
Release Candidate 1 of Revive Adserver v5.3.0 can be downloaded now from the Downloads page of the website.
Reporting issues
Any issues or bugs found during the installation, update, or use of the v5.3.0 RC1 should be reported only by creating a new issue in our Github repository. However, before doing so, please check to see if the issue you noticed has already been reported, and consider adding a comment about any additional observations to the issue instead. The issue you observed may have already been fixed.
Please try to be as specific as possible, including any error log entries you might be able to provide, and/or screenshots of the issue. Describe what you were trying to do, what you expected to happen, and what actually happened instead. Make sure to mask any sensitive details like usernames, passwords, paths and URLs.
Timeline for final release of v5.3.0
If necessary, a second release candidate will be posted in the week of August 16, 2021.
Our current plan is to have a final release of v5.3.0 available on September 13, 2021. However, this may have to be delayed due to pending issues at that time.
You can follow our progress towards completing the v5.3.0 release on our Github page.
Community contributions

The continued development of Revive Adserver is being sponsored by community members, either financially or in the form of code contributions. We're very grateful for the support we've received. If you would like to contribute to our project financially, please consider becoming a patron on Patreon.com.
Another way to contribute to our project, is by using the Revive Adserver Hosted edition.