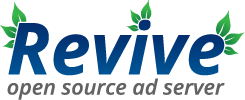 We will be celebrating the first anniversary of the Revive Adserver project in a month, and the project team would love to hear from you about your success stories of using the free open source adserver in your business.
We would like to invite you to fill out the form below, and let us know how you've been using Revive Adserver. We will use your submissions for a special blog post next month, highlighting the first year of the project and how you, our users, have been able to find success from running Revive Adserver for your business.
Please take a few minutes to submit the form, we look forward to reading your entries. Thanks in advance!


Thanks for your interest, we have collected enough success stories for our blog post.